About Us
---
Srishti Hospital, Puducherry, India provides for all aspects of sub fertility diagnosis, treatment and laboratory services that you may require for assisted reproduction. Located in Puducherry or erstwhile Pondicherry which is a Union Territory India, Srishti is Pondicherry's first Fertility Clinic and Test Tube baby center.
The clinic is elegant yet modern, stylish,comfortable and offers world class medical and laboratory facilities.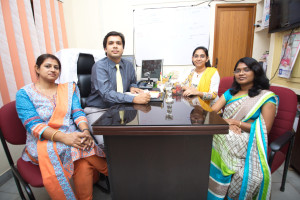 At Srishti, we provide fertility treatments including ovulation stimulation, IUI (intra uterine insemination), IVF (in vitro fertilisation), ICSI (intracytoplasmic sperm injection), IMSI (intracytoplasmic morphologically selected sperm injection) and surgical sperm retrieval.
Donation programs including donor sperm, donor eggs and egg sharing. We offer minimally invasive(laparoscopic) gynecological and fertility surgeries. We also have fertility counseling services available at our premises.
Laboratory procedures that are done at our fertility center in Puducherry include; semen analysis, cryopreservation of sperm and embryos, laser assisted hatching and blastocyst culture, and all endocrinological blood tests.
We have been in the forefront of Fertility care and advanced Gynecological Endoscopic procedures, offering world-class care with superior clinical outcomes, at extremely affordable prices.
Our team consisting of gynaecologists, fertility specialists, embryologists and andrologists gives you personalized attention at each step.Your treatment is started with a thorough medical and physical examination. You can be assured of receiving a comprehensive treatment plan tailored to suit your requirements.
Our team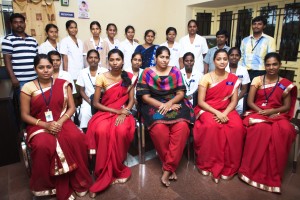 Our unparalleled expertise in test tube baby is well know as we are Pondicherry's first test tube baby center.
Dr S.Dash our Fertility Specialist ,Laparoscopic Surgeon and Medical director, has been extensively involved in test tube baby process. He graduated and post graduated from Jawaharlal Institute of Post-graduate Medical Education and Research, popularly known as JIPMER, which is one of India's premier medical institutes. Many JIPMER Alumni are world famous doctors and surgeon.
The laboratory at Srishti was designed by Dr S.Dash with the help of Dr Sebanti Dash who is a Reproductive Endocrinologist.
Our Clinical Embryologists are well trained and we pride in being one of the few centers in India, which has an in-house Embryologist, to constantly monitor laboratory conditions and take care of the embryos growing in the incubator, round the clock.
The results for all procedures including test tube baby are carefully recorded and monitored for continuous improvement in the system.
1
0